Welcome to the Jacksonville Ladies Website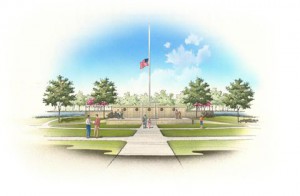 In September of 2008, a new Volunteer Service was formed for the Jacksonville National Cemetery. At the Dedication Ceremony the Jacksonville National Cemetery Advisory Committee suggested that local women's organizations take on this "Last Tribute" to the Veterans that would be buried in the cemetery. The "Jacksonville Ladies" started meeting in November 2008 and were present for the first interments that began on January 7, 2009. This non-profit Volunteer program shadows the Arlington Ladies, a Volunteer group of military wives and lady Veterans at Arlington National Cemetery in Arlington, Virginia, whose service began in 1948 by the wife of Air Force Chief of Staff General Hoyt Vandenberg.
Membership in The Jacksonville Ladies is strictly voluntary and is open to all ladies who have a sincere desire to pay final tribute to our Veterans. A Volunteer is there to attend every Service, not to "intrude" but to stand as a "silent witness" and give honor to the Veteran and condolences to their families. It is not a "typical" Volunteer job, and it must come from the heart. It is an honor to be a part of these ceremonies that pay tribute to the everyday heroes that make up our armed forces. The Volunteers give back a little to those who have given so much for our great country.
We attend all Services; however our #1 Mission is to be there for those who have no family or friends present. We are their "final witness"; to say a prayer and to give the respect and thanks they so deserve….
If you think you or someone you know might wish to participate in our organization, please fill out the form in the "About The Ladies/How To Volunteer" tab. You may also make a donation to help with our costs for cards, envelopes etc (we are a non-profit organization and rely solely on donations) by checking out the "Donations" tab.
A Volunteer will be there for every Service, and "God Bless Our Veterans"….
Help The Ladies
If you would like to help the Jacksonville Ladies but do not have the time to volunteer. Please consider donating to our cause.
Join The Ladies
Would you like to become a member of the Jacksonville Ladies?